Author [s]: Yal Emmich, Steven Levenson, Benj Pasek, and Justin Paul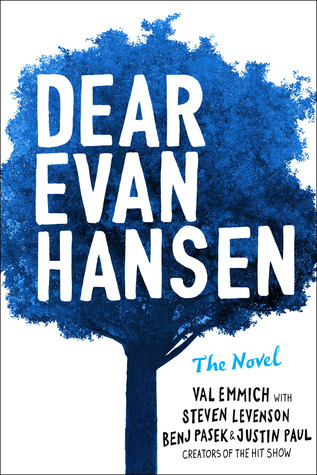 Pages: 368
Genre: Young Adult Fiction
Publisher: Little, Brown Books for Young Readers
Release Date: October9, 2018
Rating: 4 out of 5 stars
Photo Credit: Goodreads.com
Where to buy: Amazon|Barnes & Noble
*Thank you Little, Brown for providing a free advanced readers copy of Sadie during BookExpo America*
Synopsis:
Dear Evan Hansen,
Today's going to be an amazing day and here's why…
When a letter that was never meant to be seen by anyone draws high school senior Evan Hansen into a family's grief over the loss of their son, he is given the chance of a lifetime: to belong. He just has to stick to a lie he never meant to tell, that the notoriously troubled Connor Murphy was his secret best friend.
Suddenly, Evan isn't invisible anymore–even to the girl of his dreams. And Connor Murphy's parents, with their beautiful home on the other side of town, have taken him in like he was their own, desperate to know more about their enigmatic son from his closest friend. As Evan gets pulled deeper into their swirl of anger, regret, and confusion, he knows that what he's doing can't be right, but if he's helping people, how wrong can it be?
No longer tangled in his once-incapacitating anxiety, this new Evan has a purpose. And a website. He's confident. He's a viral phenomenon. Every day is amazing. Until everything is in danger of unraveling and he comes face to face with his greatest obstacle: himself.
A simple lie leads to complicated truths in this big-hearted coming-of-age story of grief, authenticity and the struggle to belong in an age of instant connectivity and profound isolation.
Review:
This book is a novelization of the Broadway Play. I've actually never seen the play so I was going into this book with a fresh, new perspective on it. Let's just say that this book was much better than I expected even with some of the things I did not particularly enjoy. **This novel does discusses suicide, so it may not be a read for all audiences. **
We're initially introduced to Evan Hansen, a teenager boy with a broken arm and a story to tell. Evan write letters to himself as a way to deal with the day and bring down his level of anxiety. Evan also has a broken arm from his ranger days [or at least that is what he is telling everyone -won't mention because it is too much of a spoiler].  I had a difficult time always okaying Evan's next move. Each step got him deeper into a situation I don't believe he was ready to take on because he wanted to make someone happy. Once Connor commits suicide, the letter than Evan writes to himself falls into the hands of Connor's family which in turn leads to the drastic and sometimes questionable actions Evan takes. Although, there were times that I may have yelled what are you doing at the book to Evan, I did appreciate how hard he wanted to help even though he went about it in a way most people wouldn't think of doing it.
I really appreciated hearing about Connor through Connor's perspective. It was sad that it was done after he died, but it ultimately gave us so much insight into his life. Connor was misunderstood and could live his fullest life. Being a teen was hard enough for him bad falling for a boy who couldn't be open made his life much more complicated. Connor was hurting and couldn't talk about the hurt, instead he built it up inside. Connor's backstory also gave way to understanding his family and their dynamic of living.
I may just be a fan of multiples Point of Views in a story because I enjoyed it in Evan Hansen. IT worked so well being able to go back and forth and hearing both from Evan and Connor. There were also characters like a friend of Connor's and Connor's sister that had some dialogue which added more to the story and added more crucial pieces to the puzzle as the story went along.  I was initially expecting a screenplay and was pleasantly surprised that it wasn't. The author's managed to create a play into a full novel with pretty decent plot and character development.
The book was a good read, I'd give it that. I obviously had some issues with it including Evan's inability to just speak up but as the story went, I understood it more and felt connected to him and his own self journey through everything that was done for Connor. One letter created a movement, one letter gave hope and one letter help a teenage boy discover and fight his own bottled up emotions and struggles. It was an emotional read but one that inspired me to live happily by being my truest self.